---
General
Boasting a robust design and powerful motor, Gremsy T7 is the next level of heavy lifting gimbal for industrial applications. With a large camera cage and ability to carry up to 7 lbs, the T7 expands the range of compatible cameras and is capable of loading multiple specialized sensors at once.
Powerful. Capable. Industrial. Gremsy T7 is here to enhance the power of your system.
HDMI HYPER QUICK RELEASE
HDMI INTEGRATED
The new Quick Release offers the high-speed HDMI transmission and quick assembly with various platforms, without worrying lack of signal after thousands of mating cycles thanks to superb floating connectors.
HOT SWAP
Swap out the Gremsy gimbals you have in a matter of seconds thanks to the new quick release. T7/T3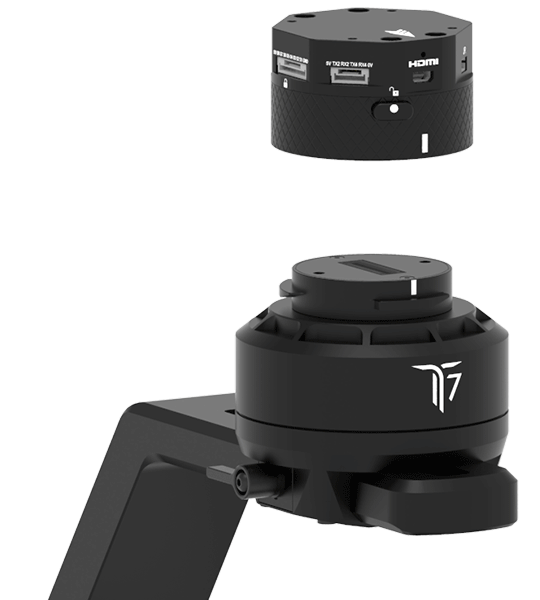 EASY TO HANDLE SIGNIFICANT PAYLOAD
Characterized by a large camera cage design, the T7 aims to carry a wide range of leading payloads up to 7 lbs such as Phase One, Wiris Gis 320, Corocam 8 UAV, etc.
Camera Compatibility:
 
Phase One iXM50/100
Phase One iXM-RS150F/ iXM-RS100F
(except lens 300mm )
Corocam 8 UAV
Specim AFX10/17
Workswell Wiris GIS 320 Senop HSC-2 Hyperspectral
MULTIPLE-CAMERA MOUNTING WITH EASE
The T7 is engineered to enable mounting the second camera by adding an extra camera slide, which enables you to take initiative in your setup and carry out the missions in your own way.
*The second camera slide is optional.
AUX PORT WITH 9 SIGNALS
Aux port with S1-S9 optional signals for users to connect to other devices such as AV signal or camera trigger for additional functionality.
ROBUST DESIGN. POWERFUL MOTOR
The T7 comes with a powerful motor in a robust form, enhancing the capability to handle large cameras and still achieve superb performance.
Open SDK Development
T7 is compatible with the Gremsy SDK to meet the requirements of those building solutions for various industrial applications.
It has the COM2 port to connect with your system.

In the Box
Gremsy T7 Gimbal x1
HDMI Hyper Quick Release x1
Hotshoe Screw x1
Hotshoe Plate x1
Hotshoe Screw Extension x1
Camera Slide & Screw x1
Quick Release Rubber cover x1
Sbus Cable x1
Cable For Pixhawk (Com 2,Com 4) x2
Power Supply Cable x1
Power Tilt Cable x1
Auxiliary Cable x2
Micro USB Cable x1
M3 x 8 Screw x5
Allen Key 1,5 (mm) x2
Allen Key 2 (mm) x1
Allen Key 2.5 (mm) x1
---
| | |
| --- | --- |
| Product Name | Gremsy T3V3 |
| System Type | 3-Axis Digital Gyro-Stabilized |
| Weight | 2.65 lbs (1200 g) |
| Camera Cage (Standard) (L x W x H) | 100 x 152 x 120mm |
| Construction | Alluminum + Plastic |
| Input Voltage | 15-52V |
| Connection | USB 2.0, CAN, UART, S-bus, Spektrum, PPM, Bluetooth |
| Payload | 3.7 lbs (1700 g) |
| OS Platform Supported | Windows XP or above; Mac OS X 10.9 or above |
| Single Operator | Lock Mode, Follow Mode, Mapping Mode, Inverted Mode |
| Dual Operator | SBUS / Spektrum / PPM/ Lightbridge 2 |
| Pan Range | Pan axis control: ±345° |
| Tilt Range | Tilt axis control:±120° |
| Roll Range | Roll axis control: ± 45° |
---
---