---
General
Gremsy T3 (version 3) is the most advanced 3-axis camera stabilizer ready to fly with many cameras in both cinematography & industrial applications. Featuring onboard HDMI and AUX ports, the T3 ensures a simple and clean setup as well as increased portability for your system. Not only providing built-in Bluetooth functionality for optimal comfort during your setup control, but we also make your plug & play installation easier within 2 seconds. With Gremsy T3, adapting to various aerial missions has never been so fast and straightforward.
HDMI HYPER QUICK RELEASE
HDMI integrated on the gimbal enables clean and straightforward setup while ensuring ability to transmit excellent video quality. With HDMI Hyper QR, the inconvenience is taken away. Just push in, twist to lock, and it's done. Thanks to built-in 14.5V Power Regulator in Hyper QR, the T3 can receive power directly from flight battery to convert to a 14.5V power supply.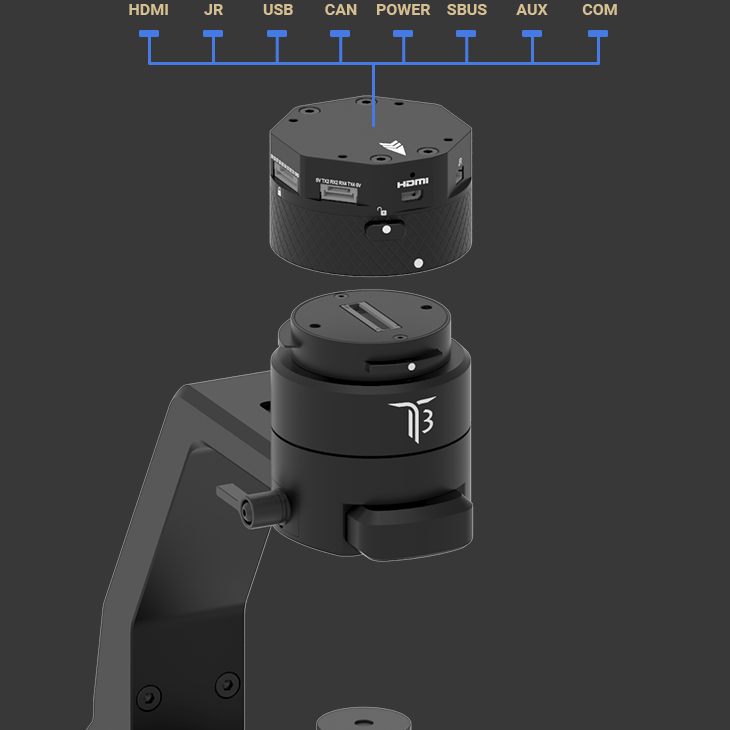 ADVANCED I/O INTERFACE
Intuitive hardware interface including POWER, CAN, COM, SBUS, JR, USB, AUX and HDMI ports has relocated on QR to quickly interface with multiple devices such as 3rd party flight controller, remote control, auxiliary I/O and power your ideal system of cameras/accessories.
AUX PORT
Aux port with S1-S9 optional signals for users to connect to other devices such as AV signal or camera trigger for additional functionality.
CLEAN DESIGN INTERNAL WIRING
Remove the need to plug in many cables, the T3 makes it trouble-free to carry out your aerial missions.
HEATED & TEMPERATURE CONTROLLED IMU
The T3 uses 3-axis accelerometer and 3-axis gyroscope IMU to ensure that it performs accurately and efficiently. Heated and temperature controlled IMU sensor is protected by an aluminum-made box. This allows for a flawless operation in too high or too low ambient temperatures.
HIGH-PERFORMANCE GIMBAL CONTROLLER
The gMotion Controller, designed and made by Gremsy offers unparalleled professional camera stabilization properties at 32-bit level. Sensor data and motors correction are updated as fast as 2000 times per second to enable incredibly smooth footage.
WEIGHT & DIMENSION
Gremsy T3 has a mid-size design, the weight of 2.65 lbs for a maximum payload of 3.7 lbs. WEIGHT / MAXIMUM PAYLOAD 2.65 lbs / 3.7 lbs DIMENSION (W x D x H): 237 x 184 x 288 mm CAMERA CASE (W x L x H): 152 x 100 x 120 mm
Compatible Cameras among others:
Wiris
Canon 6D Mk I, Mk II
Pentax
Nikon D810, D800, D500
Panasonic GH3, GH4, GH5
Sony A6000, A6300, A6500
Sony A7S (mk I - II)
Sony A7r (mk I - II)
Sony A9 (mkI - II)
Phase One IXM50/100
UMC-S3CA
FUJIFILM X-T
START-UP TIME WITHIN 2 SECONDS
No need to manually set up the home position every time you boot up the gimbal. Gremsy T3 provides an easy one step plug and play installation that takes only 2 seconds to complete.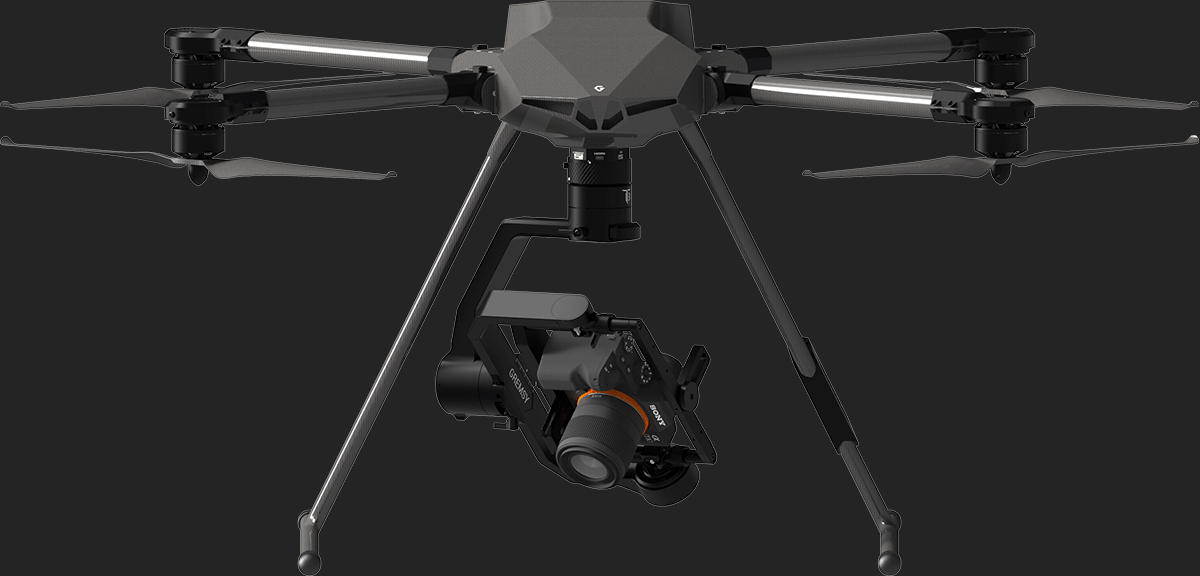 BUILT-IN BLUETOOTH CONNECTION
Built-in Bluetooth functionality allows users to conveniently control the gimbal via smartphone, tablet or other suitable devices. *Wifi module does not support this model.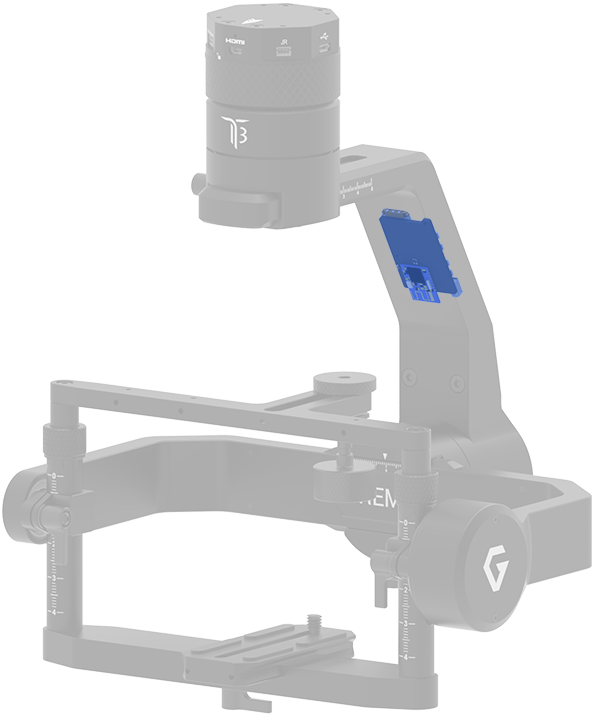 In the Box
Gremsy T3-V3 Gimbal x1
HDMI Hyper Quick Release x1
Hotshoe Screw x1
Hotshoe Plate x1
Hotshoe Screw Extension x1
Camera Slide & Screw x1
Quick Release Rubber cover x1
Sbus Cable x1
Cable For DJI FC (A3, N3) x1
Cable For Pixhawk (Com 2,Com 4) x2
Power Supply Cable x1
Power Tilt Cable x1
Auxiliary Cable x2
Micro USB Cable x1
M3 x 8 Screw x5
Allen Key 1,5 (mm) x2
Allen Key 2 (mm) x1
Allen Key 2.5 (mm) x1
---
| | |
| --- | --- |
| Product Name | Gremsy T3V3 |
| System Type | 3-Axis Digital Gyro-Stabilized |
| Weight | 2.65 lbs (1200 g) |
| Camera Cage (Standard) (L x W x H) | 100 x 152 x 120mm |
| Construction | Alluminum + Plastic |
| Input Voltage | 15-52V |
| Connection | USB 2.0, CAN, UART, S-bus, Spektrum, PPM, Bluetooth |
| Payload | 3.7 lbs (1700 g) |
| OS Platform Supported | Windows XP or above; Mac OS X 10.9 or above |
| Single Operator | Lock Mode, Follow Mode, Mapping Mode, Inverted Mode |
| Dual Operator | SBUS / Spektrum / PPM/ Lightbridge 2 |
| Pan Range | Pan axis control: ±345° |
| Tilt Range | Tilt axis control:±120° |
| Roll Range | Roll axis control: ± 45° |
---
---