---
General
The Matrice 300 RTK is DJI's latest commercial drone platform inspired by the latest flight systems. With up to 55 minutes of flight time, advanced AI capabilities, omnidirectional detection and positioning system and more, the M300 RTK sets new standards by combining intelligent features, high performance and unsurpassed reliability.
15 km Max. range
55 minutes Max. flight time
Omnidirectional detection and positioning system
Primary flight data display
protection class IP45
operating temperature:
-20 °C to +50 °C
battery system with hot-swap
UAV Status and Management System
superior performance
Improved transmission system
The brand-new OcuSync Enterprise enables transmission at a distance of up to 15 km and supports three-channel video in 1080p. Automatic real-time switching between 2.4 GHz and 5.8 GHz4 enables more reliable flight in high interference environments, while AES-256 encryption provides secure data transmission.
15 km transmission range
1080p three-channel video
2.4 /5.8 GHz Automatic real-time switching
Improved flight performance
The improved design of the flying frame and drive system allows you to fly more efficiently and stable, even in extreme conditions.
55min Max. flight time
7m/s Max. sink rate
7000m Max. flight level
15m/s Max. wind resistance
23m/s Max. airspeed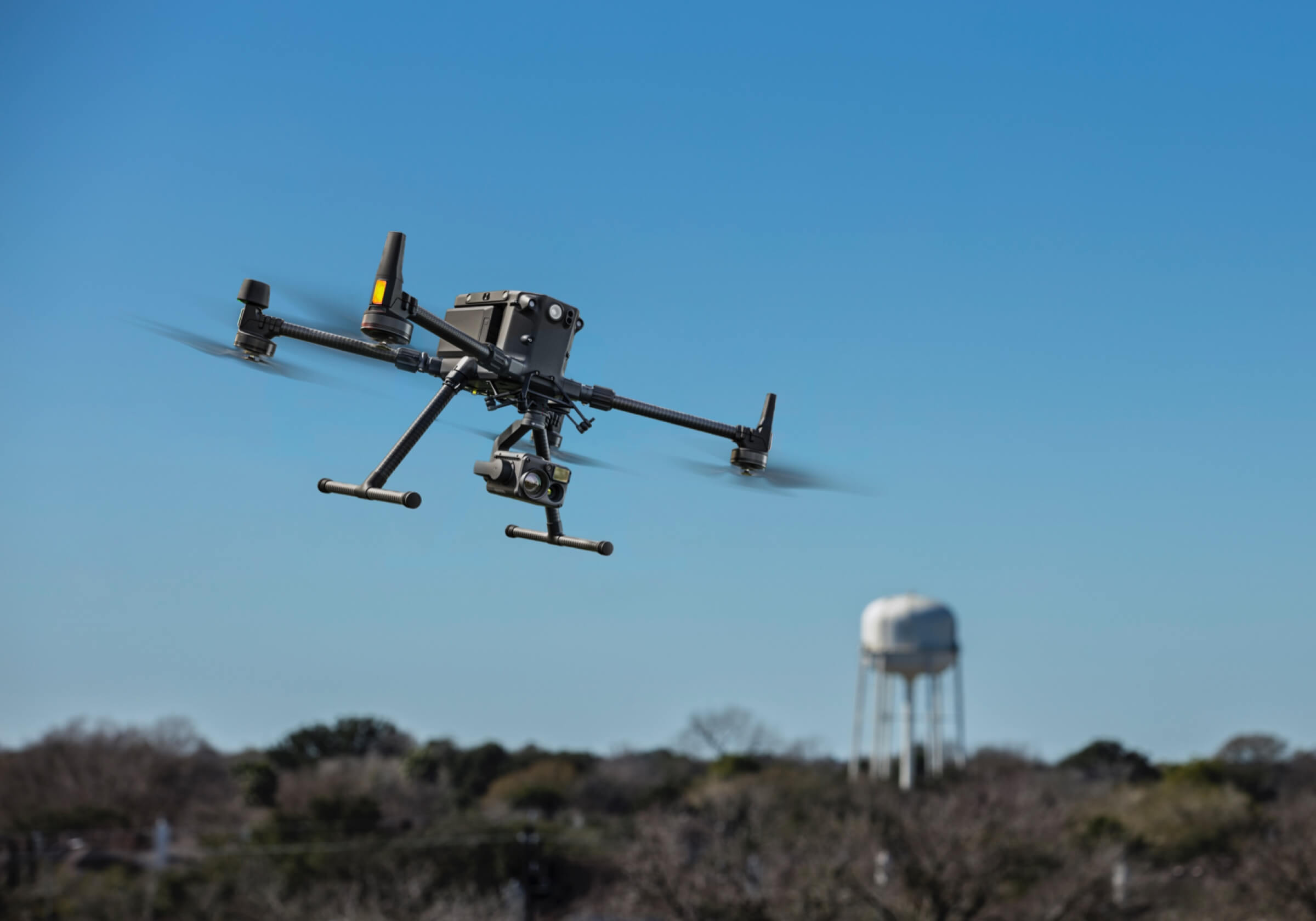 Various options for industrial extensions
Configure your M300 RTK to meet your application requirements. Mount up to three payloads simultaneously with a maximum payload of 2.7 kg.
Variation of directed gimbal
Upward and downward directed gimbal
Upward directed and dual downward directed gimbals
Progressive information
Real-time application recording
Record mission details such as flight movements, gimbal alignment, photo shots and zoom level to create templates for future automated inspections.
KI points of inspection
Automate routine inspections and capture consistent results every time. The AI detects the desired object and identifies it in subsequent automated operations to ensure consistent acquisition.
Waypoint 2.0
Create up to 65,535 waypoints and specify multiple actions for one or more payloads at each waypoint, including third-party actions. Flight planning is also optimized to maximize the flexibility and efficiency of your operations.
Smart marking & tracking
PinPoint (precise localization)
Select an object in the camera or map view. The advanced sensor fusion algorithms determine the coordinates instantly and project them as an AR symbol on all camera views. The location of the subject is automatically shared with another remote control or online platforms like DJI FlightHub.
Tracking
Identify and track moving subjects such as people, vehicles and boats with the tracking function. The auto-zoom function ensures continuous tracking and display. The dynamic location of the subject is continuously detected and passed on to another remote control or DJI FlightHub.
Layer retraction as from a cockpit
The M300 RTK features a new primary flight data display (PFD) that integrates flight, navigation and obstacle information to provide the pilot with optimal situational awareness.
Glight information
Flight information such as flight attitude, altitude and speed of the aircraft as well as wind speed and wind direction are displayed intuitively.
Navigation display
In addition to the flight direction, pilots can see the flight path in real time, information about the position of the target and the starting point in a more efficient way. Simultaneously visualize all nearby obstacles with the new obstacle map to keep you fully informed.
Advanced dual control
Any user can now gain control of the aircraft or payload with a single movement. This creates new possibilities for deployment strategies and greater flexibility during operations.
Safe and reliable
Powerful vision sensors with full control
To improve safety during flight and aircraft stability, all six sides of the aircraft are equipped with dual-vision and ToF sensors that provide a maximum detection range of up to 40 m. You can adjust the detection behavior of the aircraft via the DJI Pilot app. Even in complex operating environments, this six-directional directional detection and positioning system contributes to the safety of the aircraft and the mission.
Professional maintenance for your drone fleet
The new integrated status and management system displays the current status of all systems, notification logs and troubleshooting tips. The system also includes flight logs, the duration and mileage of the aircraft throughout its life cycle, as well as tips for aircraft care and maintenance.
Redundancy systems for more safety during flight
The M300 RTK's built-in advanced redundancy systems allow you to perform critical operations in unexpected scenarios. What redundancy does the M300 RTK provide? All redundant systems are described in more detail in this report
more flexible than ever before
protection class IP45
self-powered battery
-20° C to 50° C
collision warning light
AirSense ADS-B Receiver
Accessories
battery charging station
TB60 Intelligent Flight Battery
DJI Smart Remote Control Enterprise
D-RTK 2 Mobile Station
CSM-Radar
Compatible industrial extensions
Zenmuse H20
Hybrid sensor gimbal with laser rangefinder, zoom and wide angle camera.
Zenmuse H20T
Hybrid sensor gimbal with laser rangefinder, zoom, wide angle and thermal camera.
Zenmuse XT2
Gimbal with dual sensor construction for video recording in 4K and thermal imaging with a sensitivity below 50 mK.
Zenmuse Z30
30x optical zoom camera – ideal for detailed inspections.
Flight time
Calculate the approximate flight time of the M300 RTK based on the actual payload of the extensions.
Tailored software
DJI Pilot
The powerful DJI Pilot App was developed specifically for companies to access the full potential of their DJI drone. The DJI Pilot app is specifically designed for the M300 RTK, for consistently professional performance.
DJI FlightHub
DJI FlightHub is an integrated solution for managing drone operations and scaling large flight operations for large organizations. Native compatibility with the M300 RTK means that DJI FlightHub can be integrated into your organization's routine tasks at any time, further increasing the operational efficiency of your drone fleet.
Use the DJI-Ökosystem for advanced solutions
Payload SDK
Integrate numerous third-party industrial extensions to your drone, such as gas detectors, loudspeakers, multi-spectral sensors and much more. The Payload SDK supports DJI SkyPort, DJI SkyPort V2 and DJI X-Port. Significantly shortens the development cycle of your own industrial expansion, and your expansion can be used in many other scenarios.
Onboard SDK
Use the computing power of your M300 RTK. The onboard SDK supports customization with numerous features, such as the Omnidirectional Detection and Positioning System, UAV Status and Management System, Waypoint 2.0 and much more.
Mobile SDK
With an extensive ecosystem of third-party apps, you can activate all the features of your drone platform. They help you to meet the requirements of your application. With the Mobile SDK, the M300 RTK allows you to customize your applications through flexible app development.
Applications
Firefighting
Save lives without endangering people
Rescue operations
Respond quickly to locate missing persons and better plan rescue operations.
Law Enforcement
Quickly assess the situation and react accordingly - at the same time improving the safety of emergency personnel and passers-by.
Inspections of power lines
Visualize large networks of high-voltage power lines comfortably - even in remote areas.
Öl and gas supply
Inspect pipelines or drilling holes without employees having to go to hazardous locations.
alt=""dji scenarios""
In the box:
1x aircraft
1x Smart Controller Enterprise
1x Enterprise Shield Basic activation code (paper insert)
1x USB charger
1x USB-C cable
1x WB37 battery
2x 2110 Propeller (CW)
2x 2110 Propeller (CCW)
2x landing gear
1x spare control knob covers (pair
2x spare propeller protectors
4x replacement gimbal damping
1x USB cable (with 2 type A connectors)
1x calibration plate for visual sensors
1x transport case
1x remote control wrapper tape
1x rubber covers for connections (set)
1x screws and tools
---
---