---
Baseus USB C Fast Charger 65 W
Universal fast charger with 65 W high output power and support for fast charging protocols, this USB-C adapter charges approximately 12.5 times faster than industry standard.
Three devices can be charged quickly at the same time with two Type-C ports (single port output max. 65 W) and one USB-A port (single port output max. 60 W), compatible with virtually any device.
Incredibly small volume: GaN technology concentrates 65W of powerful output in the compact size of a palm, 30% smaller than the old 65W charger, portable enough to take anywhere. The streamlined gallium nitride power supply system makes for a smaller and lighter charger with higher charging efficiency.
The built-in smart chip enables intelligent adjustment of output voltage, current and power via BPS technology when charging multiple devices simultaneously, higher charge conversion efficiency, lower temperature and safe use.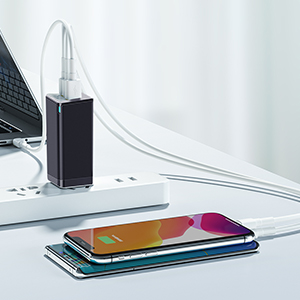 Fast charging protocol
The USB output carries Huawei's SCP/FCP fast charging protocol. PD 3.0 fast charging for iPhone 12/ 12mini/ 12Pro / 12Pro Max/ iPhone 11 / 11Pro / 11Pro Max / XS Max / XS / XR / X / 8/ iPad Air 4; AFC fast charging protocol of Samsung S10 / S10+ / S10e / Note 10 / Note 10+.
Adaptation to multiple systems
Intelligent identification chip, avoids abnormal screen response, flashing and battery damage, faster and safer.
Small & Handy
30% smaller than the old 65w USB C charger. Allows easy storage and transportation. A 100% compatible charger for your holiday or business trip!
PD Charger with GaN Tech
GaN technology delivers the fastest charging speed for 96% of all mobile devices. The Baseus 65W GaN Charger supports various fast charging protocols, including QC3.0, iPhone PD 3.0, Samsung AFC (Note10+, 20W). In addition, the charger is suitable for notebooks with a USB-C charging port, such as the DELL XPS 13, MacBook Air, MacBook Pro, MacBook, Chromebook, Google Pixelbook, Surface, iPad Pro, iPad Air, iPad, Surface Go, etc.
Optimised for charging three devices
65 W power supply
99.8 g compact size, ideal for travel
Elegant and portable design
Due to the many smartphone/tablet/computer brands currently on the market, there is a wide variation in the fast charging protocol of each brand. Therefore, due to compatibility issues, some devices may not be able to be fully charged if charging multiple devices in parallel. To obtain the best charging result, we recommend the following charging combinations:
Port combination: Terminal device
C1 Port: Notebooks, tablets or smartphones
C2 or A port: Tablets ,Android devices and iPhone's
C1+C2 or C1+A port: notebooks, tablets, Android smartphones and iP hones
C2+A port: Android smartphones
C1+C2+A port: notebooks, tablet or Android smartphones
Note: 1. Please plug / unplug the charger to connect. If there is dust in the charging port. 2. the charger WILL get a little hot during multi-port charging due to power distribution problems, but it is in the normal range, safe and will not harm people. 3. the charger will not charge a laptop over 65W.
Included
1x Baseus 65W mini travel fast charger with three ports
1x 100W data cable
1x instruction manual
Model: CCGAN65E3
Size: 10.1 x 3.6 x 3.2 cm
Weight: 124 gr
Input power:
AC 100-240 V
50 / 60Hz
1.5 A max
Output current
Type-C1:
5V / 3A
9V / 3A
12V / 3A
15V / 3A
20 V / 3.25 A max
Type-C2
5V / 3A
9V / 3A
12V / 3A
15V / 3A
20 V / 3.25 A max
USB
5V / 3A
5V / 4.5A
9V / 3A
12V / 3A
20 V / 3 A max
Type C1 + type C2: 45 W + 20 W (65 W)
Type C1 + USB: 45 W + 18 W (63 W)
Type C2 + USB: 5 V / 3 A 15 W
Type C1 + type C2 + USB: 45 W + 15 W (60 W) max
---