---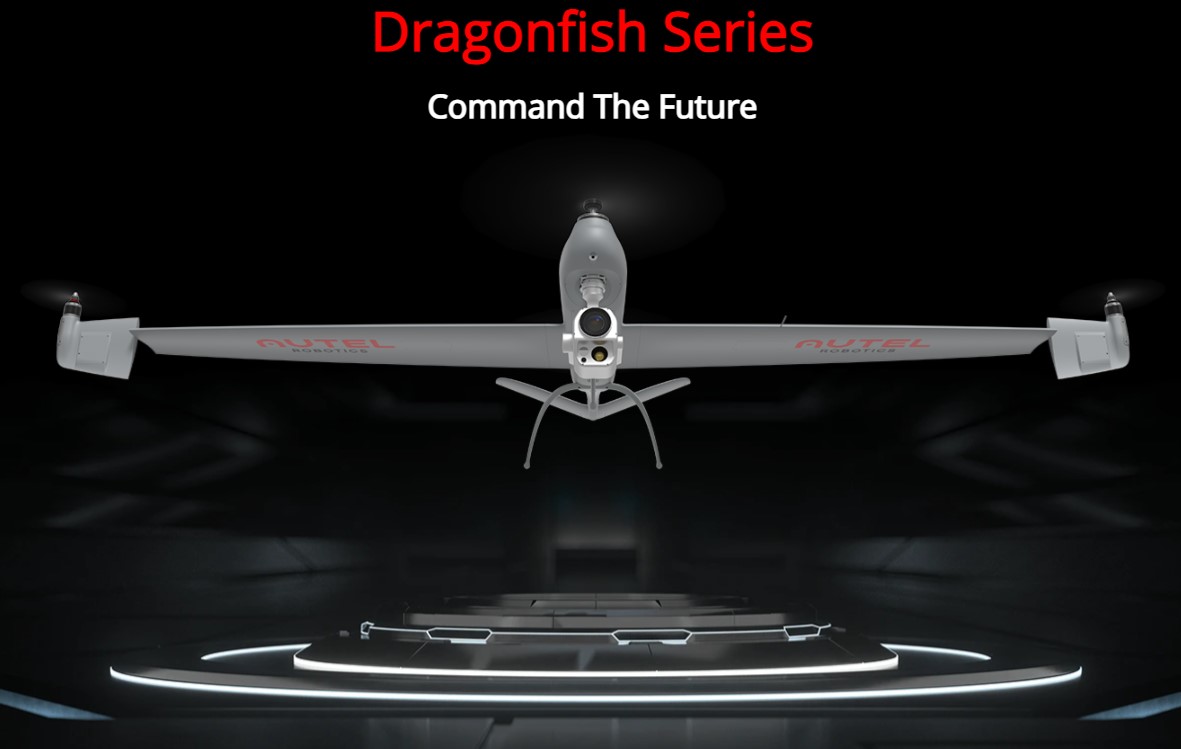 Smart. Simple. Efficient.
The Dragonfish's unique tilt-rotor design simplifies operation while maximizing performance and efficiency. With no complicated moving parts, the Dragonfish is modular, waterproof, smart and reliable. The Dragonfish is ready to go out of the box with powerful AI tracking capabilities and a variety of modular payload options. An endurance of up to 158 minutes (including payload) further enhances the Dragonfish's robust mission capabilities and gives it a significant edge over the competition.
Longest flight time with load
Fast assembly
Highest optical zoom
Maximum speed
Transmission range
System startup and self-test
Endurance with payload
The Dragonfish series includes three models: Dragonfish Lite, Dragonfish Standard and Dragonfish Pro. With a flight time of 81 minutes, 126 minutes and 158 minutes with payload, respectively, each model can significantly improve work efficiency.
Security and redundancy

Backup Modules
The Dragonfish battery, barometer, positioning system, compass and IMU all have backup modules to ensure flight safety.
Autel Robotics' superior flight control platform ensures stability and reliability in every flight.
Automatic Transition
The Dragonfish automatically switches to multi-rotor mode when adverse conditions cause fixed-wing flight to stall or become unsustainable. The Dragonfish can automatically select the flight mode to achieve the best performance.
Ruggedly built
The aircraft's composite outer shell and carbon fiber core give it a Level 6 wind resistance rating and IP43 weather resistance to handle complex environments with ease.
Attentive AI
Watchful AI continuously self-checks the system to prevent errors before they occur.
High-quality sensors
The integrated airspeed sensor monitors the environment in real time, even when there is snow or ice.
Internal communication
Double redundant CAN bus communication protects the aircraft from electromagnetic interference and allows real-time monitoring of the control surface and engine status.
Take off transition height *AGL from the starting point. Please adjust altitude to clear obstacles.
Transition Distance Min - 984 feet.
(1) CIRCLE THE POINT TO
(2) WAYPOINTS
(3) CIRCLE THE DOWN POINT
landing transition distance min - 984 feet. Aircraft descend prior to transition.
Landing transition altitude *AGL from landing point. Please adjust altitude to clear obstacles.
Intelligence and autonomy: simplify mission tasks with the Dragonfish's wide range of automated features.
Using Autel's advanced flight control technology and intelligent AI, the Dragonfish can handle even the most complex operations.
One-click takeoff/landing
AI high speed tracking

Place of interest

Follow terrain

Quick mission                                                                                                                                                                                                   .
ADS-B receiver
In addition, Dragonfish is able to inform operators of the position, altitude and speed of incoming manned aircraft via an integrated ADS-B receiver, significantly improving flight safety.
RTK accuracy
Map reliably with the Dragonfish's two Real-Time Kinetic (RTK) modules, which enable the aircraft to provide centimeter-level location data in conjunction with a GNSS base station. The two units back up each other's data for added safety, while improving the quality of imagery metadata and enhancing flight precision and safety.
Interchangeable payload system
*See the specifications page for information on specific payload adaptability.
Handle any mission with a variety of payload options that can be easily interchanged based on mission requirements. Dragonfish payloads are designed to be interchangeable between aircraft classes to maximize value and enhance system mission capability.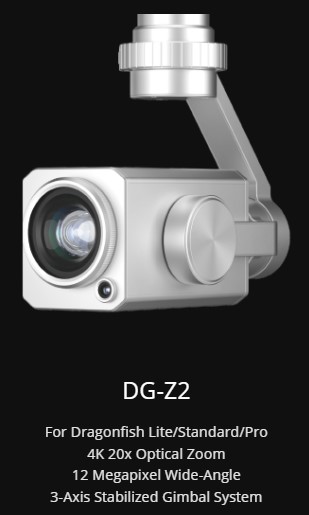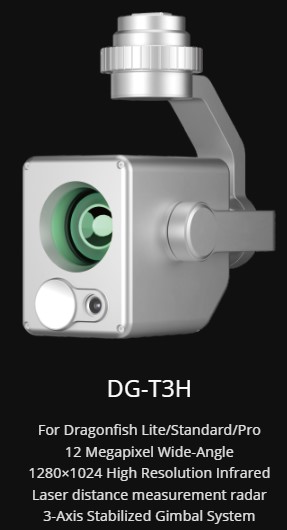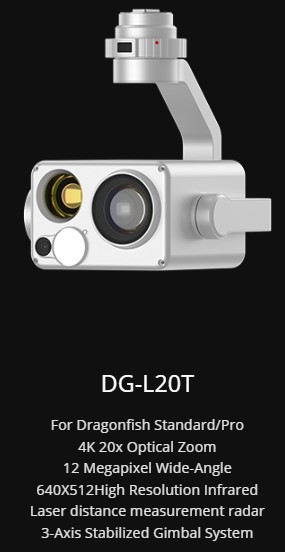 Max. Flight time chart for Dragonfish series with payload

*All flight time data is from real outdoor flight tests (average flight speed 18m/s, remaining battery power 5% after return home, battery cycle times ≤ 5 , no wind, no rain).
Optical Zoom
The Dragonfish Pro with L50T payload can achieve 50x optical zoom and 240x hybrid zoom. Even when observing targets 2 km away, details are clearly visible. Operators do not need to be on site, which not only improves work efficiency but also ensures the safety of personnel and flight equipment. Enable efficient energy inspection, emergency rescue, public safety and other industry applications.
Practical applications
The Dragonfish's powerful platform and modular payload options make it an asset for a variety of jobs.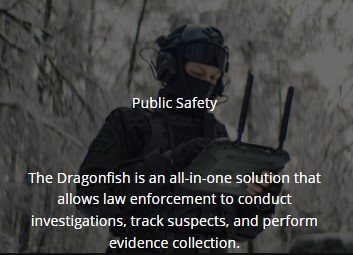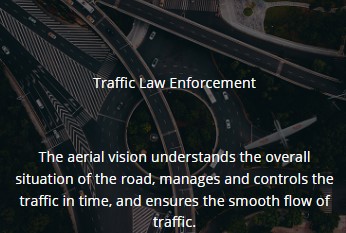 Compact and portable
With its innovative quick release design and fast self-test, the Dragonfish is
the Dragonfish is airborne and ready for use within 5 minutes.
The Dragonfish can be easily disassembled by a single person and fits in the trunk of any average sized car. The entire system assembles without tools and is ready to fly in less than 5 minutes.
The entire system performs a self-test in 5 seconds and is ready to fly in 5 minutes.
The quick release blade design makes assembly easy and convenient.
Security mechanisms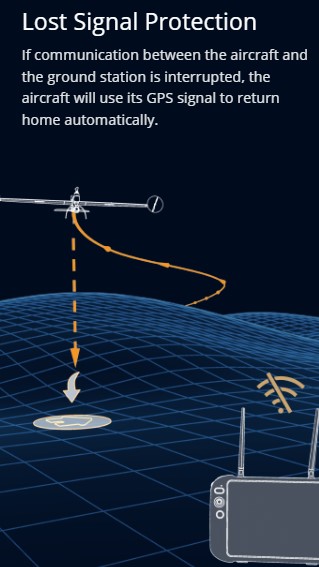 Why choose Autel Dragonfish?
Less training required
Throwers, slingshots, casts and parachutes are not required.
Easy to fly
Take off anywhere, anytime.
Easy to transport
Dragonfish fits in the back of any car/SUV.
Maintenance Free
Unlike helicopters or other flying solutions, there is no need for costly maintenance such as oil changes.
Low noise
The electric motor is much quieter than a fuel engine, making it perfect for high altitude reconnaissance flights.
Tilt rotor design
Switch from quadrocopter mode to fixed-wing flight at the touch of a button.
Included
1x Aircraft body
1x Base station
1x Charger + AC line
2x Base station antenna
1x Base station tray
1x Base station charger
1x Repair tool kit
1x Wing set
1x Tail
1x Airspeed indicator cover
1x 9.7 inch ground station
4x Battery (the actual quantity is subject to the purchased set)
2x Propeller blades
2x Base station feeder
1x Base station tripod
1x USB Type-C cable
1x Gimbal Camera
1x Ground station lanyard
1x Propeller holder
1x TF card
1x Documentation set (includes Dragonfish Standard, Base station, Charger, Battery quick guide, Disclaimer)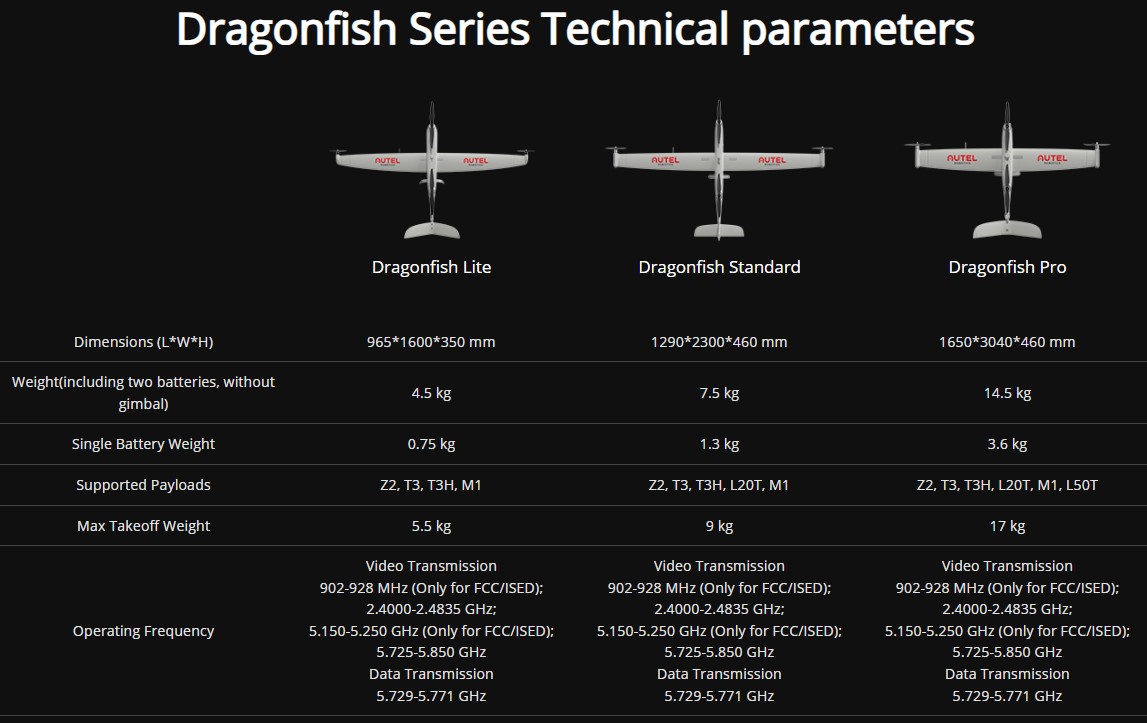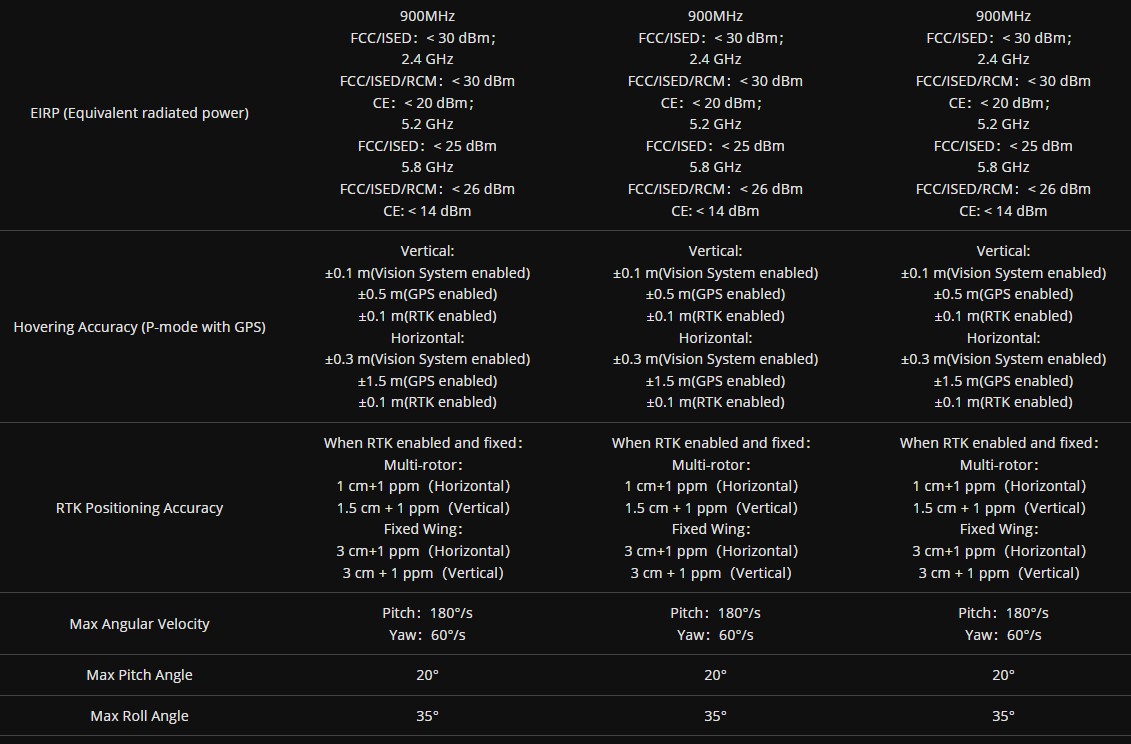 ---