---
- The optimal start to build up your drone batallion-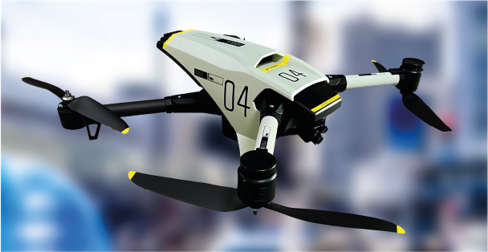 The new quadcopter from HHLA Sky stands out for its quality and safety. It is the first drone from Germany, manufactured within the EU, which can be accommodated both on a small scale and within a drone fleet.
The drone has a range of 20 km and a flight duration of 30 minutes with a maximum takeoff weight of 4 kilograms.
Compact and portable - The X4 is easy to transport and quickly set up for short-term deployment Scenarios.
Integrated object tracking - Identify and track moving subjects such as vehicles and individuals.
Security in hardware and software - 4G/5G fully encrypted data connection for commands, control, and live Video.
Reliable even in extreme scenarios - The X4 is IP54 certified and can be equipped with a parachute for safe operation even in critical infrastructures. The drone operates in temperature ranges from -10°C to +40°C.
Data acquisition tailored to your Needs:
FPV-Camera:
Integrated HDR camera with ToF sensor and 2.0 MP CMOS.
Option 1 :
Option 2 :

RGB/IR

Full HD RGB Sensors

40x zoom (20-times + 2x digital)

180° x 90° rotation for comprehensive view

RGB zoom

HD RGB sensors

40x (with 80x digital zoom)

180° x 90° rotation for comprehensive view
 

IR Sensor:

Resolution 640x480

4x zoom

Optical image stabilization (digital and mechanical)
DIMENSIONS
Dimensions (excl. props): 49,5 x 46 x 17 cm
Dimensions (incl. props): 74,5 x 78 x 17 cm
Maximum take-off mass (MTOM): < 4 kg
Transport Case: 56 x 46 x 27 cm
PERFORMANCE
Operating temperatures: - 10°C to +40°C
Propulsion system: 12" x 5" carbon propellors (x4)
Environmental protection: rain and dust proof IP54
Flight time (with Payload): 30 min
Wind stability (max.): 18 m/s
GNSS
GNSS Type: Dual U-Blox F9P with optional RTK
Supported systems: GPS/GLONASS/BEIDOU/GALILEO
Relative precision:
up to 30 cm in stand alone
up to 5 cm in RTK mode
Absolute precision:
up to 2.5 m in stand alone
up to 5 cm in RTK-mode
SENSORS
Altitude sensor: IMU (3x redundant)
Additional sensors: Optical flow, range sensors in flight and ground
Compass: direction external magnetometer
Radio link telemetry/RC : 2,4 GHz encrypted data link
Radio link telemetry/payload: 4G/5G IoT link with diversity antenna
FPV-SYSTEM
Type: Integrated HDR camera with ToF-sensor
Sensor type: 2.0 MP CMOS
PARACHUTE
Type: DRS-5
Maximum carrying mass: 5 kg
System weight: 290 g